Carbonizer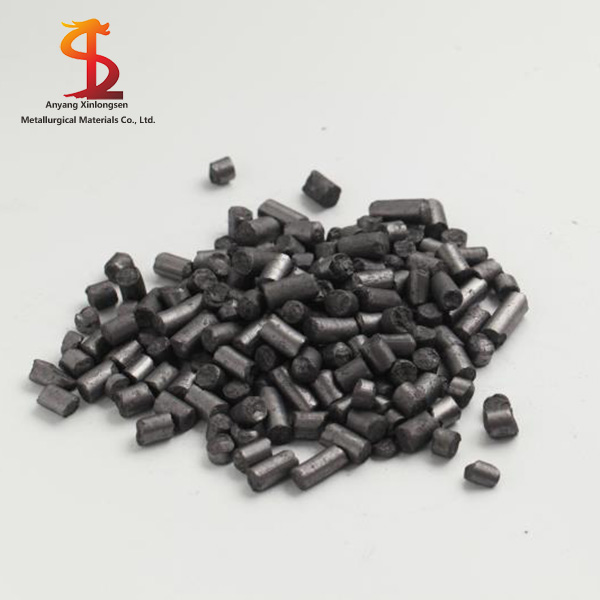 Carbonizer
Advantages introduction:
Carbonizer introduction: There are many kinds of raw materials and different
Carbonizer introduction: There are many kinds of raw materials and different production processes, such as lignin carbon, coal carbon, coke, graphite and so on, among which there are many small types under various classifications. High quality carburizers generally refer to graphitized carburizers. At high temperature, the arrangement of carbon atoms is in the form of graphite, so it is called graphitization.
Graphitization can reduce the content of impurities in the carburant, increase the carbon content of the carburant and reduce the sulfur content. When carburizing agent is used in casting, the amount of scrap steel can be greatly increased, the amount of pig iron can be reduced or pig iron can not be used.
Carburizing agent should be put into the furnace along with scrap and other materials in the way of feeding in electric furnace smelting. Small dosage of carburizing agent can be added to the surface of molten iron. However, it is necessary to avoid large quantities of feeding into molten iron to prevent excessive oxidation, which leads to the occurrence of low carbon effect and insufficient carbon content in castings. The amount of carburant added is determined according to the proportion and carbon content of other raw materials.
Different types of cast iron, according to the need to choose different types of carburant. Characteristic of carburizer itself chooses pure carbon-containing graphitized material to reduce excessive impurities in pig iron. Proper selection of carburizer can reduce the production cost of castings.
Use of Carbonizing Agent
In the process of smelting, due to improper mixing or charging and excessive decarbonization, sometimes the carbon content in steel does not meet the requirement of the top stage. Carbon should be added to the molten steel at this time.
Commonly used carburizing agents are carburizing pig iron, electrode powder, petroleum coke powder, charcoal powder and coke powder. Petroleum coke with few impurities is used as carburizing agent in converter smelting medium and high carbon steel. The requirement for top-blown converter carburizer is high fixed carbon, low ash, volatile matter and impurities such as sulfur, phosphorus and nitrogen, and dry, clean and moderate particle size.
Its fixed carbon components are: carburizer
W(C)>96%, volatile matter<1.0%, w(S)<0.5%, w(moisture)<0.55%, particle size 115 mm.
Particle size is too fine and easy to burn, too coarse added to float on the surface of molten steel, not easy to be absorbed by molten steel. Particle size of induction furnace is 0.2-6 mm, of which steel and other ferrous metals are 1.4-9.5 mm, high carbon steel requires low nitrogen, particle size is 0.5-5 mm, and so on. It needs to be judged and selected according to the specific type of furnace smelting workpiece and other details.
The Role of Carbonizing Agent
For casting, cast iron, cast steel and castings, there will be a requirement for carbon. Carbonizer, as its name implies, is to increase the carbon content in molten iron. For example, pig iron, scrap steel and recycle material are commonly used in smelting. The carbon content of pig iron is high, but the purchase price is one section higher than scrap steel. In order to increase the amount of scrap, reduce the amount of pig iron and add carburant, it can play a certain role in reducing the cost of castings.
The use of carburizing agent can not only make up for the burning loss of carbon in steel smelting process, ensure the requirement of specific grade carbon content of steel, but also be used for adjustment after furnace. Carbonizer
As an important raw material for melting molten iron in induction furnace, the quality and usage of carburizing agent directly affect the state of molten iron.
Carbon content in ladle can be adjusted by adding a specific brand of carburizer after slag removal and degassing treatment, so as to achieve the goal of more than one ladle. The main materials used in the carburizer are graphite, graphite-like, electrode block, coke, silicon carbide and so on. The commonly used electrode block and silicon carbide carburizer have the advantages of high carbon content and strong oxidation resistance, but the production process is complicated and the cost is high. With coke powder and graphite as carburizing materials, the production cost is lower than that of electrode block, but the ash and sulfur content are high, the carbon content is low, and the effect of carburizing is not good.
Name/Indicator

Fixed Carbon FC %

ash content ASH %

Volatile Compounds VM %

Water content H2O %

sulfur S %

Carbonizer

90carbon

9.0

1.0

0.3

0.3

92carbon

7.0

1.0

0.3

0.3

93carbon

6.0

1.0

0.3

0.3

94carbon

5.0

1.0

0.3

0.3

95carbon

4.0

1.0

0.3

0.3

Note: The company can produce all kinds of products with different granularity and specifications according to the needs of customers.